I've been mulling two separate ideas over the last week – but I have a nagging feeling that they're somewhat related.
The first is that "digital literacy" is a poorly defined concept and there's a significant gap between the idea and the reality.
I'd suggest that there's a significant difference between learning software and becoming literate in digital technology – yet the two are more often than not considered the same. One is said to signify the other but to me the way we learn to use technology is akin to learning to memorise a book rather than learning to read it. Learning to read requires us to learn the mechanics, vocabulary and grammar – it's developing knowledge and understanding of the way things are constructed that allows us to become literate.
With technology we seem to just skip that process and in its place we memorise processes and technique that are specific to a certain circumstance (application, operating system, version) which aren't transferable across contexts. Without an understanding of the mechanis every new technologies requires tremendous effort to learn, just as it would to memorise a book. However, if we become literate in digital technology – if we've learnt how to read – new applications, systems and software can become akin to picking a book off a library shelf and instantly being able to make sense of it. While the story, the character, even the way language is used might be different our literacy allows us to make sense of it. It's not about homogenisation but rather the skills to adapt to complexity, variety and diversity.
I'm on board with the idea that digital literacy is something vital for 21st century society. I feel that it can equip us with the tools and knowledge to become active in determining our technological future rather than just responding and adapting to the technology placed in front of us. The big caveat here is that it requires effort – quite a lot. Becoming digitally literate requires a similar effort to learning to read – taking years to develop and improve through incremental exposure to new concepts and increasing complexity.
The other idea is that of creating a student centric technology ecosystem.
I've been toying with the idea since the end of last year and it came from thinking through the concept of transferring ownership and custodianship of data back to students. It's been fuelled over the last month by the blog discussions from Jim Groom, Mike Caulfield and others collated in this post from Ryan Brazell. Their discussion and suggested frameworks are similar to what I had in mind for a system that would transfer ownership and control back to students in terms of their data and the content they generate as part of their studies. Think blog + LinkedIn + eportfolio + badge backpack rolled into one but managed by the student not a commercial entity looking to commercialise data. Think then about integration of this system into institutional systems (LMS, student admin etc) via APIs using profiles that the students have control over. They can decide levels of access institutions can have to their data as well as things like preferred communication channels and contact details. This kind of system could work with the traditional LMS but it would be transform it into an aggregator, returning it to the status of an actual management tool, rather than the source and container of all content. It would create a distributed ecosystem of self managed services performing a range of functions from identity management to online publishing, records of learning and displays of achievement. This would work just as well for staff within the education sector too – and could form part of establishing their digital literacies. Essentially it decouples the student from the confines of institutional systems while also supporting the institution in providing more seamless and collaborative offerings. It opens universities to new models of working, collaborating and the associated income streams possible.
But … (and in this case it's a big one) … this system would require greater digital literacy to get off the ground than say an LMS, especially in terms of executive management. It's a huge shift away from how digital technology has been sold and has worked in the past. It's a move away from the control, concentrated resources, monolithic system and captive data that most institutions are used to (perhaps depend on) to something open, distributed, personal and fundamentally mobile. It's a situation that this cartoon I retweeted sums up perfectly: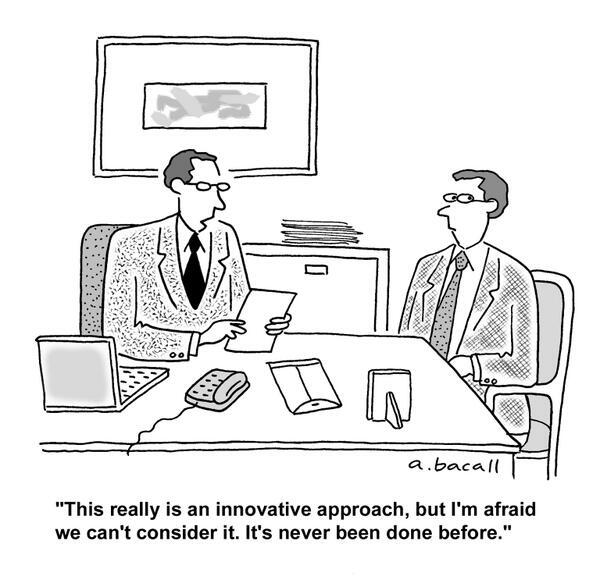 Perhaps what links these idea together is what I perceive as the mismatch between rhetoric and reality.
We want students and staff to be more digitally literate but that currently is equated to knowing software or performing rudimentary tasks not an understanding line mechanics of the digital environment. We want personalised learning but think that we can achieve this by containing students within the LMS rather than on the web and by measuring vast amounts of data rather than actually giving students the power to make their own informed decisions. The intended outcomes aren't reflected in what is being done, even on a strategic level at most universities, let alone what happens in the majority of individual classes.
Putting this all down in this post is an attempt for me to come to terms with what I've been thinking. It's not particularly clear – but it's a description of events that I see as the come into focus. I'm not trying to be pessimistic – instead its my way of licking my finger, sticking it in the air and trying to see where the wind is blowing.
I'm not pessimistic on what lies ahead – far from it. The work that people like Jim Groom and the team behind Domain Of Ones Own have been doing actually fill me with hope – because someone out there is doing something. I'm also interested reading Mike's posts because I can see at least someone is starting to develop a vision for what's next. The work ahead is about trying to draw a line between the two!
---
Thanks to @jimgroom, @holden & @ryanbrazell for sharing your work so openly!