OK, there's a really big gap between this post and the last, for what was intended to be a weekly post! My excuse is simple – I've been busy. Productively busy – outputting far more than I have been inputting. My addiction to more information hasn't really abated – and that's why this is a long list – so here we go!
The Predatory Pedagogy of On-Line Education – This one of the most insightful pieces I have read about education in general for quite some time. I don't like to put in massive quotes but I think somes up what I think one of the biggest issues facing education in this age:
"Pedagogy as an intellectual, moral and political practice is now based on measurements of value derived from market Competition," argues educational theorist Henry Giroux, "Mathematical utility has now replaced critical dialogue, debate, risk-taking, the power of imaginative leaps and learning for the sake of learning. A crude instrumental rationality now governs the form and content of curricula, and where content has the potential to open up the possibility of critical thinking, it is quickly shut down. This is a pedagogy that has led to the abandonment of democratic impulses, analytic thinking, and social responsibility.

Giroux is right.  He's not speaking against educational technology or social media (he is the Global Television Network Chair in English and Cultural Studies and uses much educational technology). He's against the imposition of given curricula, forms of pedagogy, modes of technology and evaluation from above in the academic-industrial-communication complex.
Why Australia hates thinkers – An interesting take. Particularly like  "Children learn from an early age that being clever is a source of shame. Ignorance is cool" as I can completely relate to this experience growing up. I just don't know where it comes from.
When Your Data Is Currency, What Does Your Privacy Cost? – Investigates a number of issues relating to data and privacy – in particular the 'value proposition' involved.
Drawing Dynamic Visualizations – If I'm honest I think I have a bit of crush on Brett Victor. His ability to astound, be truly innovative and make my jaw drop at what is possible when you reframe and rethink past the convention is amazing. Highly recommend checking out his other talks – particularly the one with the live gaming engine!
Twitter and the death of distance – I named Twitter on my 2012 thank you list because of it's impact on my life. I totally concur with the finding of the research here:
One of the key findings of the research is that Twitter is transforming our conceptions of communication at a global level. The study also confirms at least two other things: Not only are we now a virtual, distributed society, we are also increasingly comfortable with the fact that content, especially knowledge, can be disseminated around the world, via huge networks of users, in seconds.
Innovation Confusion – I'm not 100% sure where to sit on this issue. I suppose by nature I am a sceptic – but always open minded. I treat technology in the same way – it needs to convince me of it's worth before I can lend it credence.
Be Awesome Instead – An excellent response to the article above – but also an attempt to keep momentum.
The Unexotic Underclass – Perhaps this is related to MOOCs in some ways – but the focus of tech on serving the young, privileged, liberal jetsetter seems a little worn out and inauthentic. Lets start to tackle real world problems, the ugly and unwanted ones. This is interesting given in the last week the parade of Pakistani and Afghan participants in MOOCs being paraded by marketing teams. Wonder if these could be consider the 'exotic underclass'?
The Myth and the Millennialism of "Disruptive Innovation" – Another great Audrey Watters piece. Just read it yourself.
Open-source Scholarship – This is what got me to sign up to GitHub and realise that this is something I need to get on board with. It's not just about programming any more – it is the tool for the remix and reuse of content by all! Now I just need to learn, how the hell do I use it?
Could social media bridge the divide between business and education? – Addressing the need to bridge the divide between business (real world) and education. Good read on the need for more authenticity in our educational praxis. Perhaps a call for embedding more informal or unusual practices.
Firefox OS – The latest mobile operating system. Am keen to have a go as Mozilla are doing a lot of things to like!
CIOs Must Become Design Thinkers – I am more convinced than ever that 'design' needs to be embedded in all institutions – but particularly education, because fundamentally it's what I think education is – design for learning! Design thinking is a great way to move beyond thinking about design from a purely aesthetic sense and embrace it as a way of problem solving instead.
Educational Media & Technology in 2013: What's Next? – Really enjoyed this and reflects a lot of my thoughts. HAd some debate on Yammer relating to McLuhan and Law 1 – but I can take it as it is.
Law 1: It s not thetechnology. It's what you do with it!
Law 2: It s not what the technology makes possible. It's what the technology makes easy!
Law 3: Pay attention to the trends in learning, not in technology.
Why Every Business Should Consider Innovation Teams – A case for Innovation Teams.  I'm still undecided on the best approach for developing and fostering innovation within an institution. I lean towards a resourced team that is open and interactive with its communications, but realise that it's not enough. You need to embed innovation into the culture – but is a team not a good start?
Designing for Services Beyond the Screen – A uniquely timed piece as I was discussing this exact topic in depth on Yammer with a colleague. So much of this piece is vital for education to understand and why so much of the 'managerial' side of universities are at odds with the business – service is not a product.
 Is IT the Worm in the Apple? – I think this alludes to the need for institutional IT to address change rather than what is right or wrong – or at least that how I hope it's interpreted. Fits my current model of the problem where IT see themselves as gatekeepers rather than service providers …. they're not delivering what the business really needs.
On Being an (Open) Educator – Really great presentation. My take home was
I don't think education is about centralized instruction anymore; rather, it is the process [of] establishing oneself as a node in a broad network of distributed creativity."
– Joi Ito @joi
… and finally great vision from a 1977 essay in Vogue, and – apart from the video tape bit – JG Ballard pretty much nails social media.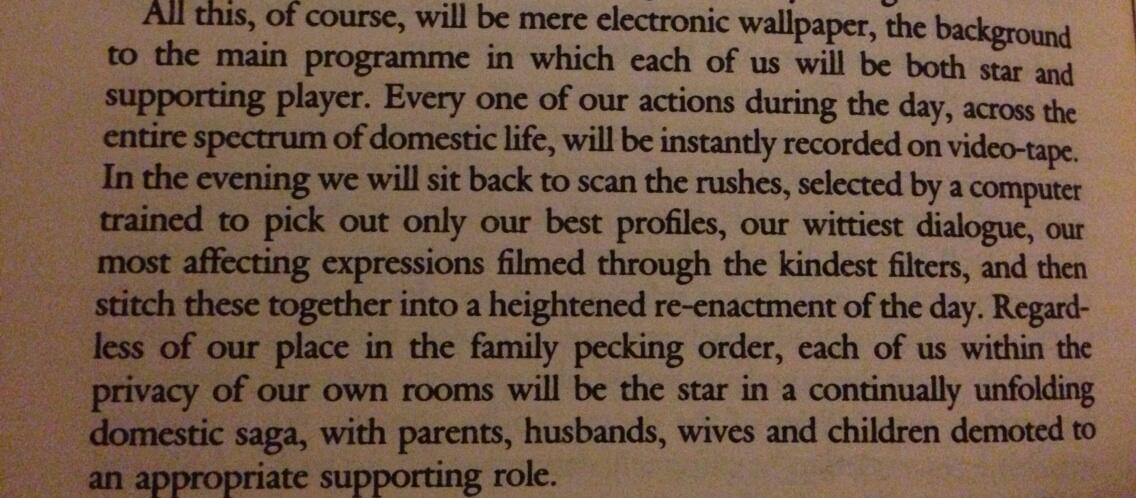 (via @anabjain)